Meditation is considered by most individuals as a spiritually or out of body experience that brings inner calmness and peace, but it's not just about a spiritual experience. Meditation which is mental training is the process of achieving mental and emotionally calmness and stability. It is also a process of acquainting yourself to your mental life.
Meditation has many other health benefits and research has shown that it is really helpful for reducing stress and anxiety. Also, during meditation, the brain is said to release a couple of waves, mainly gamma waves, which helps to bring about the feeling of calmness experienced after a session of meditation.
Well, the exact method of boosting gamma waves through meditation has not fully been determined, but what can be accepted as a fact is that meditation helps you balance brain waves and boost gamma brain waves.
It is important to keep our brain waves balanced, and there are certain factors that can disrupt this healthy balance like stress, sleep deprivation, medications, and others can affect the brain and the type of brain waves it will produce.
For this reason, if you are unable to have full concentration as you normally do, you might have some type of brain wave imbalance, and talking to your doctor to find out if you need to undergo any evaluation may be highly recommended.
What Are Brain Waves?
In simple terms, brain waves are electromagnetic energy and it shows the effects of meditation on your body. That is to say, there is a lot of activities happening in your brain while and when you meditate and you can even map it out and find out how with the use of Electroencephalogram (EEG).
Just as you may already know, the brain cells communicate with electricity and brain waves are produced when this brain cells called neurons communicate with each other.
There are Different types of brain waves produced in different situations such as when you are in thoughts, feeling a particular emotion or acting in a particular way, and brain waves differs according to your mood or activity. Brain waves can be slow or fast or even in between.
Slow brain waves occur when you feel tired while brain waves of higher frequency manifested when we are alert, awake and active. Let's now discuss how meditation affects the brain waves.
The Effects Of Meditation On Brainwaves
We have five types of brainwaves that shows for a particular activity or emotion. Brain waves can and most times fluctuate according to what you are doing or feeling. Meditating correctly, can move the brain waves from a higher frequency to a lower frequency, thereby changing how you feel, and meditation stimulates different parts of the brain in a particular manner.
For example; during meditation the parietal lobe, which gives you the sense of time, slows down and will help lower your stress and anxiety levels. During meditation, we feel detached and relaxed, which means the frontal lobe responsible for planning and reasoning is switch off.
One of the advantages of meditation is the calmness it brings and this is because the thalamus, a part of the brain responsible for relaying motor and sensory signals to the cerebral cortex, slows down its activity.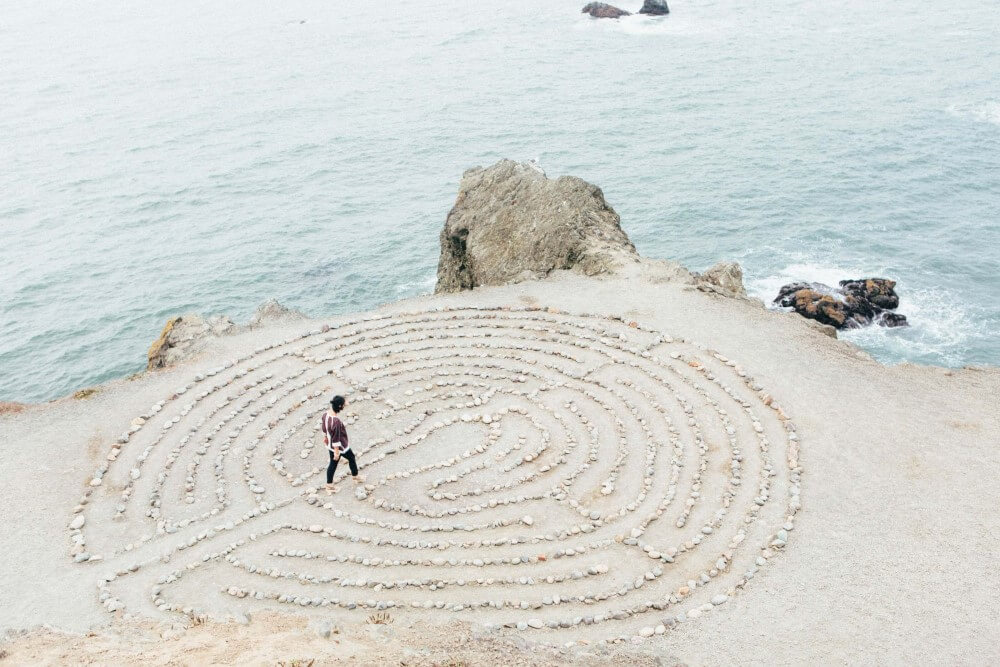 Types of brain waves
1. Alpha Waves
Alpha waves occur when you are awake, feeling quiet and thoughtful. Not really focusing too hard on anything in particular and whatever you are doing at the moment you are feeling relatively calm and relaxed. Alpha brain waves help lower blood pressure, stress levels, heart rate and also calms the nervous system.
2. Beta Waves
These kinds of brain waves will manifest when you are wide awake, alert, engaged and focused. You are probably going about your activities of daily living and making decisions. These brain waves help a great lot in improving conversation skills, logical thinking, concentration and awareness.
3. Theta Waves
Theta waves occur when you are sleeping and is at the highest peak when we are deeply relaxed or in a meditated state. Theta waves are often referred to as the third eye and they are active when doing automatic things. Theta brainwaves help develop creativity, problem solving skills and improve memory and focus. 
4. Delta Waves
Delta waves happens in a deep dreamless sleep, these waves are low and slow. This particular wave produces anti-aging hormones, yes! You read right anti-ageing hormones, so anytime you are less busy getting yourself a good sleep.
5. Gamma Waves
Gamma brain waves happens when your brain is working at a peak level. The fastest brain wave is also the gamma brain waves. Gamma waves help in decreasing anxiety, depression, fear and helps in increasing positive emotion.
As a matter of fact, gamma waves are confirming that you have or can achieve a high peak of concentration. This means you are focused and your brain is actively engaged in solving a problem. Gamma waves are boosted by different meditation techniques such as breathing meditation, loving-kindness meditation and many others.
In fact, a study of yoga practitioners showed that people who focused on their breath experienced greater increases in gamma wave production.
Wrap up
Meditation is a timeless practice that brings inner peace and calmness. During meditation, the brain releases gamma waves, which are known to have a calming effect on the body. These waves released by the brain during meditation are very effective and potent in relieving depression, anxiety, fear as well as boosting positive emotions. Would you like to learn more about meditation? If yes, kindly click here for more meditation content.