Just started reading the blog? Facing insomnia probably? Worried about it? I'll not say don't worry! You have to be concerned about it! BECAUSE 50% of adults with insomnia have mental health problems and conversely up to 90% of adults with depression experience sleep problems.  (According to https://theconversation.com/au).
So, how long it's been that you are facing insomnia? No matter how long it's been! Believe me, it's never too late.  You can solve the problems in many ways. 
ARE YOU REALLY FACING INSOMNIA?
Insomnia is the other name for sleeplessness. Firstly, you need to know what insomnia is? And are you facing
Is it hard for you to fall asleep or hard to stay asleep or you wake up early and not be able to get back to sleep?
If yes to any one of the above, then you might be at risk of insomnia!
An American author Poppy z Brite once said, "The night is the hardest time to be alive and 4 am knows all my secrets". 
HOW INSOMNIA AND MENTAL HEALTH RELATED?
Did you know?
When you sleep properly, your body passes through four stages. Your body temperature decreases and muscles relax. Moreover, heart rate and breathing rate also become slow. It means that your body is almost in a relaxing phase that results in the proper functioning of your body i.e. enabling better thinking, ability, and memory. Now, suppose, you aren't getting enough sleep, your body specifically your brain is not taking rest that sooner or later leads you to depression and mental illness.
According to sleep psychology, when you are getting inadequate sleep, your brain circuits may overlap because of an upset of body clocks and sleepiness timing system.
Not only this, but sleeplessness also makes a person inclined to negative thoughts that further lead to suicidal ideas and behaviors. In the United Kingdom, 51% of people don't get good sleep and women had more issues with sleep than men. ( www.statista.com)
The relation between insomnia and mental health becomes more evident when we see the stats on this (that we have already discussed).
So in a nutshell, insomnia, most of the time leads to depression and vice versa! 
INSOMNIA AND YOUR MENTAL HEALTH!
Sleeping disorders and depression are closely associated. A study of 1000 adults aged between 21 and 30 enrolled in Michigan health maintenance organization, found that compared with the normal sleepers, the insomnia patients are four times more likely to develop depression, which is thought-provoking!
Now, if you are facing insomnia, you might have felt mood changes i.e. anger, anxiety, irritability, which makes it harder for you to cope with daily minor stresses. Initially you might take these things as insignificant but getting frustrated, annoyed, and feeling frazzled would make you a mental patient in the long run. 
INSOMNIA AND MENTAL ILLNESS – LEAD TO SUICIDAL RISKS
Yes, you read it right! Your sleeplessness not only makes you a psychological patient but also develops suicidal thoughts in your brain!
Sleep deprivation makes a person depressed and frustrated. Researchers have found that insomnia leads you to mental torture and then you develop suicidal desires because you are prone to negative thoughts and emotions. Even small things that can be ignored in normal cases make sleep-deprived people frustrated and feel anxious. They are not going to overlook these kinds of stuff and become agitated. And these agitations will then result in suicidal thoughts. You want to end up your life, to end up your stress. And the final solution, people have is "death". Always keep in mind that death isn't the solution to every problem. Take the problems in your life like the questions in your exams, face them, solve them! You are like a basketball, when you hit the ground hard, you bounce back so high!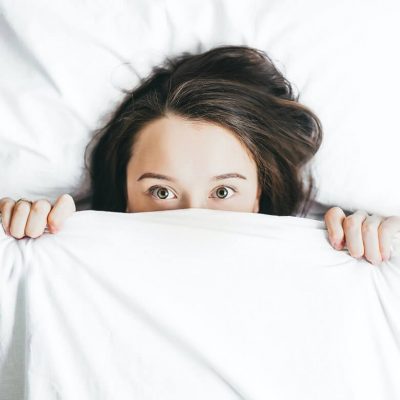 CAUSES OF INSOMNIA
Before we move to the help, we must know why we are having this?
• STRESS
Any type of stress that might be related to home, work, or your loved one, can make you feel difficult to sleep. Sometimes, the sudden incidents and traumas (e.g. death of your loved ones, divorce, or Joblessness) may result in sleeping disorders. As Hans Selye once said, "It is not stress that kills us, it is our reaction to it!
• POOR SLEEP HABITS
Waking till late in the night, waking up too late in the morning, busy work schedules, disturb your sleep-wake cycle. Moreover, using mobile at night, video games, social media, these all disturb your sleep and ultimately brain. 
• CAFFEINE, NICOTINE, ALCOHOL
Using these stimulants late in the night might keep you from falling asleep. They contain stimulants. Moreover, when you take these at night, you might have to go to the washroom multiple times that might disturb your sleep! 
• MEDICAL ISSUES
Sometimes, health and medical conditions like asthma, depression, high blood pressure, allergies, etc. can make it difficult to sleep, which in the long run results in sleeping disorders.
• MEDICATIONS
There is an increased risk of insomnia with increasing medications. SSRI antidepressants such as fluoxetine and trazodone, Psychostimulants such as methylphenidate, Nasal decongestant, or oral decongestants such as oxymetazoline and pseudoephedrine may cause insomnia. Moreover, Corticosteroids, Beta-blockers, Statins, and ACE inhibitor may make us difficult to sleep.
Source:(https://www.goodrx.com/blog/could-your-medication-be-causing-insomnia/ )
BEST TREATMENT FOR INSOMNIA
If you are facing insomnia, then healing this problem as soon as possible is very important, lest it becomes incurable. We have already discussed that sleeplessness can make you mentally ill. So start treating from today because "prevention is better than cure". 
• USE BED ONLY FOR SLEEP
Lying on the bed may make your body feel relaxed but not your brain. So, Don't take a rest and lie on the bed except when you have to sleep. And when you go to bed and are unable to fall asleep, get up, go outside, do a walk or something else, and don't move back to bed until feel sleepy. 
• AVOID GADGETS BEFORE SLEEP
We might just ignore it because now it's our habit. We use cell phones till late in the night, which not only affects our brains but also the sleep-wake cycle. Sleeping late at night, then waking up late; will make you an insomnia patient and ultimately mentally ill.
• MEDITATION
It can be a very good option. Because when you meditate you observe your breath, body, thoughts, feelings, and sensations as they arise and pass. This helps you to stop thinking about daily life problems and stresses. Yoga can also be a very good option especially if you take 20 minutes of yoga as part of your daily life. 
• LAVENDER OIL
 If we talk about home therapy, you can go for it. Lavender oils are very good for people who are unable to sleep due to depression. For this purpose, you can take 20 to 80 mg of lavender oil orally or spray it near your pillow to have a very soothing effect. It will help you to have a calm and sound sleep. 
• COUNSEL YOURSELF 
You are not only your best teacher but also your best doctor! As you know yourself better than anyone else. As far as insomnia is concerned, more than 85 to 90% of us know why we are having this condition and mostly it is depression. Heal yourself through counseling. Tell yourself that your health is most important for you. All stresses and difficulties are temporary and they would not remain forever. Good times are not very far away. Do what makes you happy. Whether it's meditation, exercise, spending time with friends or family, or whatever you want. And even if you aren't able to sleep, try to keep your body and brain relaxed! 
Conclusion
As we all know that our lives are getting automated, with machines everywhere and we are going towards more laziness every day. This is resulting in a more sedative lifestyle and more passiveness and then when we go to bed, we feel it difficult to fall asleep, just because we are not tired when going to sleep. Moreover, stress and depression are increasing day by day. What we need is to keep ourselves cool and calm as well as keep ourselves busy in doing anything. This can help you get rid of many problems such as anxiety, depression, insomnia, mental illness in the long run!